Par vēlēšanām un vērtībām
Vadot valsti vai pilsētu mēs par kaut ko vienojamies. Šeit ir vairāki varianti ap ko – varam vienoties ap idejām, ap kaut kādiem mērķiem, bet varam mēs vienoties arī ap vērtībām. Vienošanās ap vērtībām ir visiedarbīgākais veids, kā dzīvot kādā vietā un tādā veidā, kur tu jūties iesaistīts.
Ja tāda izvēle būtu, kas tās būtu par vērtībām ap ko tu būtu gatavs vienoties?
Latvijā attīstība notiek neieklausoties cilvēkos, politiķi izdomā mērķus, vai precīzāk, šauras interešu grupas izvēlas savas prioritātes un atbilstošā mērcītē to pasniedz kā vēlēšanu programmas. Un cilvēkiem tad tajos penteros ir jāmēģina atrast to, kas ar viņiem rezonē. Protams, ka politiķi ir sapratuši, ka tur ir jāraksta tas, ko cilvēki vēlas dzirdēt, jo savādāk taču neievēlēs, kā var nesolīt.
Galvenais ir būt ievēlētiem. Tālāk par programmas pildīšanu nav tik svarīgi.
Esošās Saeimas atlaišanas jautājums tam ir spilgts piemērs. Varbūt LV vēl ir problēma, ka mums ir ļoti sadrumstalots elektorāts, ir pārstāvēti dažādi spēki, katrs ar saviem supersolījumiem. Sanākot kopā daudziem tādiem solītājiem, ir skaidrs, ka to visu nevar realizēt. Tad sākās tirgošanās. Katrs grib izskatīties labāks par pārējiem un pārējām partijām. Lai iegūtu lielāku varu. Un tāpēc īsti nav sadarbības un uzticības vienam pret otru, katrs domā par sevi, saviem egoistiskiem mērķiem, reitingiem, lai pēc iespējas labāk izskatītos uz pārējā fona, bet mērķis un solījumi paliek kaut kur aizmugurē.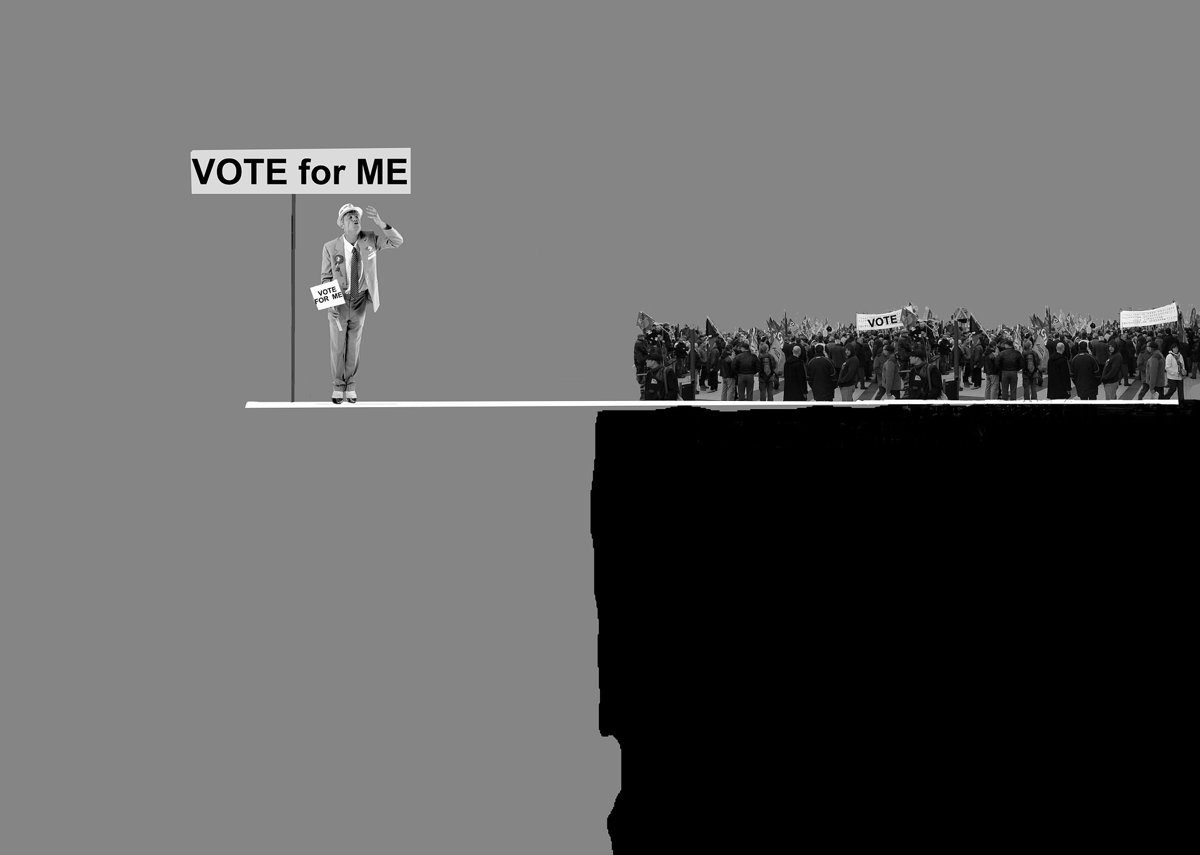 Risinājums esošās situācijas maiņai būtu vienošanās ap konkrētām vērtībām. Mērķi, vajadzības un idejas mainās, bet vērtības ir tās, kas ir nemainīgas daudz garākos laika periodos. Ja mēs varam vienoties par vērtībām, ja politikā ienāktu cilvēki ar vērtībām, tad būtu daudz vieglāk izšķirties par ko balsot.
Tevis pārstāvētās vērtības par tevi pateiktu pilnīgi visu. Un tālāk vēlētājiem būtu arī daudz vieglāk politiķus kontrolēt un norādīt uz neatbilstībām. Mēs, kas ikdienā nestrādājam ar šiem dokumentiem, mēs nevaram izlasīt visu, ko saražo politiķi. Bet mēs varam dzirdēt, redzēt, sajust konsekvences par to vai virzītā lieta ir saskaņā ar vērtībām. Tur politiķi būtu ļoti caurspīdīgi, viņi nevarētu manipulēt un subjektīvi ietekmēt kaut kādus procesus. 
Protams, ka ir jābūt mehānismam, kur tu vari atsaukt cilvēkus, kas ir nodevuši deklarētās vērtības. Un tad politika nāks no tautas un politikā sāks darboties reāli cilvēki, kas deg par to, ko viņi pārstāv. Savādāk sanāk tā, ka tie, kas grib darboties politikā, tiem ir jāpiemēra esošie novalkātie krekliņi un tad kaut ko jau uzvelk, kaut kā jau dabū to krekliņu pāri galvai. Bet tu, kā politiķis, pēc brīža ieraugi krekliņu, kas tev ir nedaudz ērtāks par esošo un tu attiecīgi maini krekliņus. Un tā tas turpinās, tu nekad īsti neesi pilnībā pārliecināts, tu nevari 100% parakstīties par to programmu, ko tu pārstāvi. Tad kā tu, kā politiķis vari to realizēt?
Bet ja sākam ar vērtībām, tad man daudz vieglāk ir saprast, kurš ir kurš krekls. Un tad, kad es vienu kreklu uzvelku, kas ir manējais, es nevaru kaut kur iet tālāk un ņemt citu kreklu. Tad es nodotu tās vērtības, ko es pārstāvēju un tad man ir jāiet projām no politikas. Jo pārdodamie cilvēki tajā nedrīkst atrasties.
Vienojamies ap vērtībām!